L-Connectors for Freemie Collection Cups
$ 24.95 (NZD)
In stock (can be backordered)
In stock (can be backordered)
Compare
Description
New! L-Connector parts attach to Freemie Cup Tubing and make the Tubing hug the curve of the Cups so you can pump even more discreetly. The part does not come into contact with breast milk and can be left attached to your Tubing Connection Kit when not in use.
L-Connectors enhance how Freemie Standard Cup Tubing looks when worn, but are not required for use.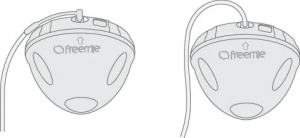 With L-Connector (L) and without L-Connector (R).